BOUNCE HOUSE POWER REQUIREMENTS
Inflatables must be set up within 50' of a dedicated power source.
When picking out a spot to place your inflatable, It is important to find an area near your house that is flat, level and free of underground or overhead obstructions. The area should be within 50' of a dedicated power source. For most homes, dedicated outlets can be found outside your home near decks and patios. They can also be found in garages or workshops..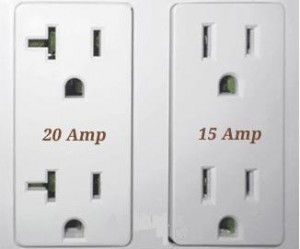 WHAT IS A DEDICATED CIRCUIT?

A dedicated circuit has its own circuit breaker in your electrical box. It is typically intended for only one appliance. No additional appliances should be plugged into the circuit making it dedicated to that one appliance. Dedicated circuits ensure that if the appliance draws a lot of energy, you are able to run it properly without overloading your system and tripping or blowing your breaker or fuse. We typically require a 20 amp circuit for our larger inflatables. We can sometimes get away with using a 15 amp dedicated circuit for our smaller 1HP blowers. Please see the Image to determine if your outlet is 15 amp or 20 amp.
Why Can't the inflatable be more than 50" from the Power source? Can't we just add more extension cords so we can place the inflatable farther away? We hear this all the time and the answer is NO! It is unsafe and can damage the equipment! Worse yet, It can possibly start a fire. Our blower motors pull a lot of energy and that creates heat. That is why all of our Inflatables are installed using our own Heavy Duty Commercial Extension Cords. If the Inflatable must be placed more than 50' from a power source, It may be necessarry to use a generator to power it. We recommend 2000 watts per inflatable blower. We can provide a generator for you if needed. Speak to a rental specialist or add to your cart before checking out.
Portable Power Options
If you need to place your inflatable more than 50' from a power source, It may be necessary to use a portable generator. We recommend 2,000 watts per blower motor. We have many different options available. Click the link below to see all available units.
Shop for Generator Rentals