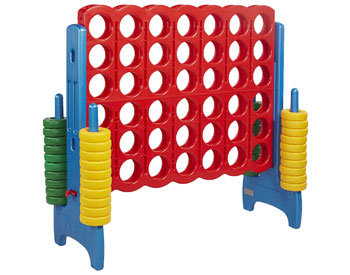 Giant Connect Four
Actual Size: 11'W x 26'L x 14' H
Setup Area: 15' x 30'




Rental Rates
Standard Party Rental: $74.99
This Item is considered an addon and cannot be rented alone.
Product Description

The Giant Connect 4 is the latest in popular non electronic game rentals. We've taken the classic game and super sized it! Players take turns playing gian Connect 4 by dropping the oversized checkers into the board and connecting 4 of the same color in any direction to win. A fun and exciting game for all ages, Giant Connect 4 is perfect for Bar Mitzvahs & Bat Mizvahs, Back Yard birthday parties and more! Great for school, church and company events! Carnivals and outdoor parties will enjoy this giant Connect Four game rental! At 4 feet tall and 4 feet wide, it's a blast for all ages! Easily staps together to make set up and tear down quick!
The Giant Connect 4 game is simple for 2 players to face off and each player chooses a color. The players take turns placing tiles and trying to get four tiles in a row. The first player to get four in a row wins! This incredibly fun and addicting game is made even more fun since its huge!
Rental Details
The Giant Connect 4 Rental offers free local delivery, set up and removal. Simply click "ADD TO CART", choose your rental Times and click the check out option. The system will automatically calculate the price based on the information you enter! Follow the checkout procedure and pay! Thats all you do! Let us do the dirty work for you, so all you do is have fun. Well set it up and when the party is over, we will come back and remove it so you don't have too! All you do is point to where you want it and enjoy the party.
Helpful Links
Rental Procedures, Safety and Rules
Bounce House Power Requirements
Giant Connect Four


This fun childhood favorite game is fun for all ages.