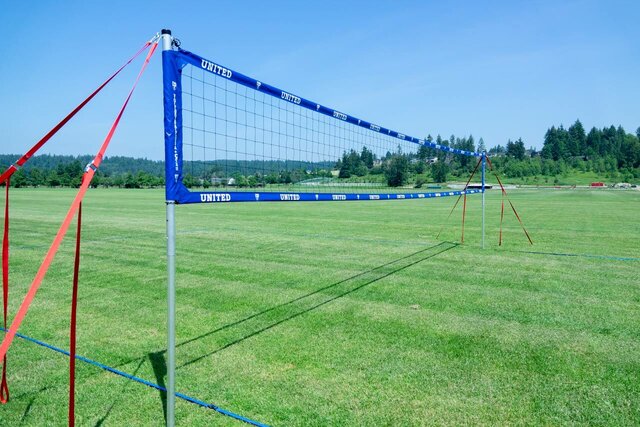 Volley Ball Net
Actual Size: 50' x 70"
Setup Area: 30' x 60"




Our 2" Semi-Pro Portable Volleyball Net System is designed for players who appreciate a tight volleyball net that hangs in a perfect rectangular shape, due to the dowels on each side of the net. The set also includes an upgrade with webbing guywires, allowing users pull even more tension on the top of the volleyball net compared to the rope in other sets. When finished playing, simply keep the top net line attached and telescope the poles down to quickly roll up the set. This allows for quick setup and take down.
Includes:
IL2D Volleyball Net - 32 ft (w) X 39 in (h). Constructed with #27 knotted nylon netting and 2-inch 13 oz UV resistant tapes on all sides and 3/4" Ash wooden dowels on each end. The corners of the net are reinforced with gussets to prevent blowouts at tension. Brass grommets are also on each side of the net with ropes for additional side tension in windy conditions.
2-Piece Adjustable Aluminum Poles - Lighter poles weighing only 4lbs each. 2-inch OD that can adjust to heights for men's, women's and co-ed. Each pole has eyebolts on both sides at the top to connect the through rope of the top of the volleyball net and the guywires.
Rope Boundary Lines - Pre-measured quarter inch rope boundary lines with loops in each corner for 5-inch steel stakes. Measures to 30' x 60' and includes a hand winder.
(4) Webbing Cambuckle Guywires - Each guywire pulls around 100 pounds creating good net tension. Push button release to reduce tension when done playing.
(4) Steel Ground Stakes – Low profile headed ground stakes which connect to guywire chain links. Pounded below ground to avoid player injuries.
Carrying Bag - Durable carrying case measuring 60" x 8" x 8" with handles, full-length double zipper and space for a ball.
Volley Ball